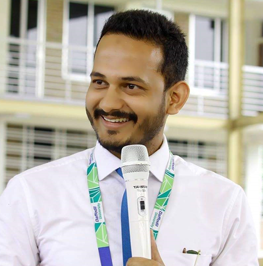 Md. Ejaj-Ur-Rahaman
Senior Lecturer
Mr. Ejaj loves to introduce himself with a starer line that "I am master at failure". Because he believes it is better to confess that he failed more than he won in his life. He boldly claims that he  enjoys the triumph of victory and equally he loves to celebrate 'failures' because it indicates he is on the way to win.
In present days, Ejaj is cultivating happiness, being a founder managing director of Happiness Factory (সুখের কারখানা), where they buy, produce, and sell happiness, and also cultivate the raw material required to produce happiness and managing it, as a backward linkage industry.
Additionally, he is embarking as a senior Lecturer of Accounting and Assistant Director of Students' Affairs of Daffodil International University. Recently, he has been invited by Bangkok University to facilitate a course: "Attifume – Art of Attitude to Impart a Pleasant Smell for Life Time." He also virtually participated as co-presenter of "Economics of Body Language" at the conference "Performing the World" held in New York. It is noteworthy that during the period of January to May 2017 he has visited Lyceum of the Philippines University in Laguna, Philippines as visiting professor to coach in the College of Business & Accountancy and in the Graduate School there.