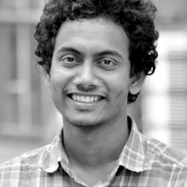 Muhammad Sajidul Islam
Lecturer
Art of Living 
Mr. Sajidul Islam is having affection for Storytelling of Lives, Culture, Mythology and Diversity. He is graduated in Performing Art with specialization in Art and Aesthetics. His post-graduation is in Journalism with specialization in New Media at the Asian College of Journalism, Chennai, India being selected by the UNESCO Madanjeet Singh Scholarship in 2015. He has earned one more Masters Degree in Drama and Dramatics with specialization in Script Writing at the Jahangirnagar University, Dhaka, Bangladesh.
He is a PhD candidate in Cinema and Television at the Anadolu University, Eskisehir, Turkey. He attended at a course in Film Storytelling and Script Writing at the London Film School—LFS, London, UK in February 2018. He has completed a Diploma in Turkish Language and Culture at the Eskisehir Osman Gazi University, Turkey. He worked as Research Assistant at BBC Media Action in Dhaka for around one year. He is the Editor of publication titled Understanding the Primary Schooling of Bangladesh published by Research for Advancement of Complete Education—RACE where he is also serving as an honorary Research Fellow.
In addition, he is the Coordinator, Office of the Director of Students' Affairs in the Permanent Campus at the Daffodil International University.  
Interested in
Pedagogy, Poetry and Nature
Author: Moonlit Tune Continues (A book based on Bengali poetry publish in Bangla Academy Book fair in 2016)